The cheese and dairy industry offers a great diversity of products. This necessarily implies a heterogeneity of production processes with different coagulation times.
To meet the growing demands of your customers, you need to increase your yields.
Meeting your needs: our expertise
At Acemia, we do everything we can to make your day-to-day life easier and to help you exceed your goals. With over 35 years of experience, we are committed to our clients' satisfaction.
Thanks to the close relationship between our engineers, our salesmen and our customers, we are able to help you to elaborate a calibrated and qualitative technical project, answering all your problems.
Our philosophy: each customer is unique! We help you to think, design and install the line perfectly adapted to your production requirements while integrating your space and speed constraints.
A project mode designed to help you exceed your objectives
Pre-project
Our technical sales engineers study your project, your flows (rates, recipes, products, …) to optimize your production. This essential step helps you to define the specifications that meet 100% of your requirements.
R&D
Our engineers get into the details of the design. Thanks to our weekly design reviews, you are at the heart of the development of your project and follow its progress.
Manufacturing
After validation of the mechanical and electrical studies, your production line is manufactured in our workshops.
FAT
We receive you in our workshop, to show you the assembled and tested equipment.
Together, we make sure that your new production line meets your requirements. We adjust it to meet 100ù of your specifications.
Installation and set up
Our teams come to your production site to install and accompany you during the start-up phases.
Training
Your production teams and managers are trained to use your new line.
Your products
Hygienic design & custom design
To do this, Acemia always works with your process and needs in mind.
At Acemia, we are regularly involved in the cheese and dairy industries. Our range of solutions covers the needs of a wide variety of clients, from small facilities where we supply stainless steel equipment for cheese preparation, to large industries where we provide conveying solutions for both bare and packaged products.
Our equipment must be resistant to saline environments. Thus, our machines are made of 316L stainless steel and are designed according to the hygienic design standards (design without hollow bodies, CIP, …)
Thanks to the ingenuity of our solutions, we help you optimize your production
Output: from a few hundred kilos to several tons per hour. Our engineers calculate your optimal outputs depending on your product and your requirements.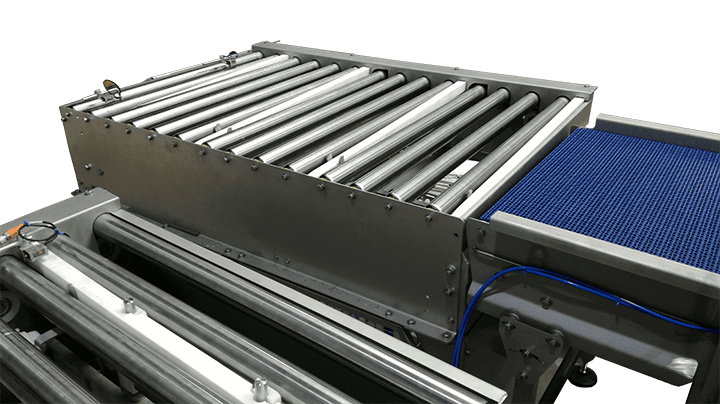 Our most requested equipment in the industry
Continuous weighing
Mixer feeder
Grater feeder
Preparation conveyors
Do you have a production process improvement project? Do you need to optimize your production?
Working with Acemia is the assurance of impeccable and responsive service, the assurance of guaranteed on-time delivery, and the assurance of having a customized food processing conveyor solution tailored to your operational constraints. At Acemia, we pride ourselves on providing expertise to our clients.
They trust our solutions
For over 35 years Acemia has established a trust relationship with its clients.